Jobs Biographer Walter Isaacson: 'Execution is What Really Matters,' Apple is the Best
Earlier this month, Walter Isaacson, the man who wrote the best-selling biography of Steve Jobs, garnered some attention when he told a CNBC interviewer that the "greatest innovation today" was coming from Google, not Apple.
Yesterday, Isaacson did an interview with Bloomberg TV, where he clarified his original statement and noted that while he believes Google is the more innovative company, with a clearer integrated strategy, Apple is better than Google at bringing products to fruition.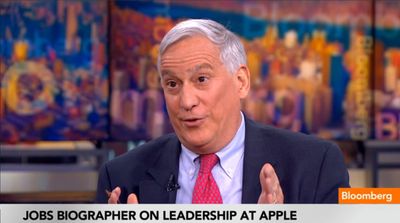 I will say one thing about the comment I made about Google being the most innovative. Innovation is great, but it ain't everything. It's not the whole equation. Execution is what really matters. Apple is the best at execution.
During the interview, Isaacson also commented on the iPhone 5c and Apple's ability to make lower cost products, noting that he believes Apple's unwavering focus on quality will not allow it to produce subpar products to compete in the low end device market.
I don't think Apple will ever be great at doing low end. It really makes insanely great products to use the phrase Steve used 30 years ago, when he launched the Mac. What I think is going to have to happen is that they're going to have to figure out a whole new set of disruptive products.

You've heard Tim Cook hint about that; whether it's television or a wearable watch, I don't think Apple's going to do well trying to be in the commodity low end race with Samsung and others.
Apple made one of its first attempts into the mid-range market with the 2013 debut of the iPhone 5c, which it sold for $100 less than its flagship iPhone 5s. Apple CEO Tim Cook recently revealed that the launch of the iPhone 5c resulted in some inventory problems for the company, as it had underestimated people's desire for the iPhone 5s.
The company expected a more balanced demand for both phones, which led to iPhone 5s inventory shortages. Due to the lack of demand for the iPhone 5c, it remains unclear if Apple will continue on with both a higher-end and a mid-tier phone for future releases. A recent report from The Wall Street Journal suggested that while Apple will release two phones in the future, it will abandon plastic casings.
As Isaacson suggested, Apple is rumored to be working on several products that have the potential to be "disruptive." The company is said to be close to the launch of a revamped Apple TV product that will incorporate games, which could severely impact the existing console market, and the much-rumored Apple smart watch is also on the horizon.