Apple CEO Tim Cook Heads to Ireland to Visit Government Officials, Company Facilities
Apple CEO Tim Cook is currently in Ireland visiting the company's facilities in Cork and preparing to meet with government officials this afternoon, according to a report from TheJournal.ie. The specific reason for Cook's visit is unknown, but Apple has maintained a significant presence in the country for several decades.
The CEO of Apple will be meeting with Taoiseach Enda Kenny later today after addressing staff in the company's Cork office this morning.

Tim Cook spoke to employees in Apple's Hollyhill premises about the firm's future plans. The Taoiseach will take a tour of the facility later today and meet with Cook.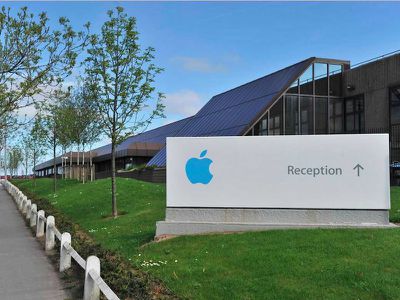 Apple's Hollyhill facilities in Cork, Ireland (Reuters/Michael MacSweeney)
Apple, which has 4,000 employees at its Hollyhill facility, has used its Irish base for decades as its home for operations in Europe and elsewhere, with the company coming under scrutiny last year for its corporate structure
funneling revenue
through subsidiaries located in the country in order to minimize its tax burden.
Apple has steadily increased its workforce in Cork as the company has grown in recent years, and Cook and Kenny are likely meeting to at least help maintain the long-standing relationship between Apple and Irish officials, perhaps with an eye on the company's future plans.
Earlier this month, Cook traveled to China to help launch sales of the iPhone on China Mobile, the world's largest carrier.
Update: TheJournal.ie has updated its article, quoting Kenny as saying that he and Cook discussed Ireland's participation in EU-wide conversations about clarifying tax issues.
Kenny didn't say if it was himself or Cook who brought the subject up, but said that the Apple CEO was "exceptionally happy" with the work the Cork office has done.

When asked whether this would mean further investment from the company, Kenny said that it was a matter for Apple to decide, but said that for now, the company is "very happy with the results from Cork and they want that to continue."