iPhone Market Share Dips Slightly as Android Increases Lead in Global Smartphone Race
Research firm Kantar Worldpanel has released a new report (via The Next Web) highlighting global smartphone sales over the October-December period, finding that while Apple's market share dip slightly in key markets, Google's Android devices increased their lead over other platforms during the end of 2013, registering year-over-year growth in various major markets.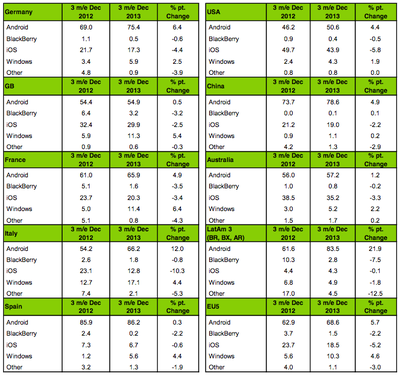 Dominic Sunnebo, strategic insight director at Kantar Worldpanel ComTech, comments: "Android finished 2013 strongly, showing year-on-year share growth across 12 major global markets including Europe, USA, Latin America, China and Japan. Apple has lost share in most countries compared with this time last year, but importantly it has held strong shares in key markets including 43.9% in USA, 29.9% in Great Britain and 19.0% in China.

Apple's total market share in the U.S. hit 43.9% in December, and was overall lower in most countries compared to the same timeframe last year. However, Sunnebo stated himself in Kantar's prior report highlighting global smartphone sales over the August-October period that customers generally react more positively to "full" releases than incremental improvements such as the iPhone 5s and the iPhone 5c, which is the likely reason for the drop in market share.
Apple also continues to have strong presence in Japan, as the iPhone has held a steady market share in the months after the debut of the iPhone on the country's largest carrier, NTT DoCoMo:
In Japan, consumers' desire for all things Apple continued into the final quarter of 2013, with iOS taking 68.7% share of smartphone sales. Apple's deal to sell iPhones through Japan's largest carrier, NTT DoCoMO, has proved an unarguable success with Apple's share on the carrier reaching 58.1% in the fourth quarter compared with 91.7% on Softbank and 63.7% on AU KDDI.
Despite its strong market share in various countries, the iPhone continues to face challenges in mainland Europe and China, where Android's market share is around 70% or higher in many countries. Microsoft's Windows Phone also continues to show growth in many markets, as the platform's market share has even overtaken that of iOS in Italy.