Original Macintosh Team Gathers to Celebrate 30th Anniversary with Stories, Demos and Laughter
Last night, over 100 members of the original Mac team gathered to celebrate the Mac's 30th anniversary in De Anza College's Flint Center, where Steve Jobs first introduced the Macintosh 30 years ago. The event was focused around three separate panels: the conception of the Mac, the building of the Mac and the third-party developers who built software for the Mac.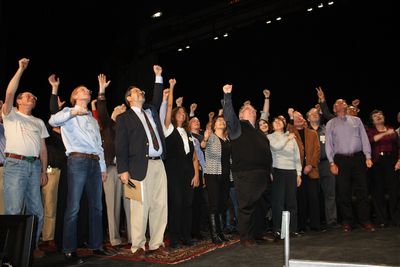 The evening began with video of both Jobs' introduction of the Macintosh in the Flint Center and a couple minutes of the 90-minute Macintosh presentation at the Boston Computer Society, which was made public for the first time last night. Master of Ceremonies and Apple employee #4 Bill Fernandez then introduced the first panel of the night: the conception of the Mac.
Moderated by New York Times writer John Markoff, the panel included Mac team members Larry Tesler, Daniel Kottke, Rod Holt, Jerry Manock and Marc LeBrun. While introducing themselves, Manock himself recalled that he initially thought he was going to be fired due to a defect on the Apple III's design that was seen as his fault. Manock states that he was called into Jobs' office while trying to fix the design and, instead of being fired, was given a job to design the Macintosh.
Later, when asked what carried over from Jef Raskin's version of the Macintosh project and Steve Jobs' version of the Macintosh product, Holt, who developed the power supply for the Apple II, said the main difference was that the computer became a product the team themselves wanted, echoing Apple's current product philosophy.

From an abstract, it became a reality. But it was the sum of its parts, but the parts were all what people wanted. And that enthusiasm, you see, people put themselves into that computer. It's the same thing that happened with the Apple II. Everyone worked on that Apple II because they wanted that Apple II. This process of invention was very unusual. I think that this world could use a lot more of that.
The second panel, moderated by Wired's Steven Levy, focused on the creation of the Mac and included Mac team members Bill Atkinson, Caroline Rose, Andy Hertzfeld, Bruce Horn, Steve Capps, George Crow and Randy Wigginton. During the introductory part of the panel, which detailed how each employee joined the Mac team, Wigginton, who created MacWrite, said "I feel like I'm listening to a bunch of lies, because according to the Ashton Kutcher documentary..." referencing Ashton Kutcher's Steve Jobs biopic Jobs and drawing a roar of laughter.
The panel then discussed how difficult it was to ship the Mac on time, noting that some of them worked up to 90 hours a week to fix things and get them as good as they could be for shipment. Levy then asked the group about their work with Microsoft, noting Bill Gates' claim that Microsoft had more people working on software for the Mac than Apple did. Wigginton quickly responded, saying "If they had more people than us then it doesn't speak very highly of the quality of the people they had," which drew massive applause and laughter.


Hertzfeld, who was a software designer on Macintosh, then jumped in, noting Microsoft was the first company that got a Mac and ended up helping shaping the Mac, creating three programs to accompany Apple's MacWrite and MacPaint to give its young ecosystem a boost. Further, he also noted one of Microsoft's systems architects kept asking how the internals of the software worked. Hertzfeld said he was curious as to why they kept asking, but eventually assumed why. "I quickly thought 'maybe they were trying to copy the Mac?' And sure enough, in 1983, they announced Windows. We were kind of shocked by that."
Capps, who helped create Finder with Horn and worked at Microsoft from 1996 - 2001, then mentioned that well into 2000 he would be in a product meeting and Gates, when he didn't like any of the ideas that were presented to him, would say "What would Apple do?" He said that Apple's ethos and product environment were burnt into his psyche and inspired Gates. Horn then noted the curiosity around Apple still exists today.

Everybody looks at Apple and says 'what would Apple do?' and everybody is copying Apple. So something that Steve did and all the people who he hired made Apple have a particular way of thinking and particular passion for the user of the product that is here today for years and years so I think that's amazing.
Atkinson then said making the Mac was more about creating art for them as opposed to doing work. This mentality, Atkinson stated, was why Jobs made the team have their signatures on the inside of the Mac, because "artists sign their work" and Jobs wanted them to be proud of what they built.
Later on, Caroline Rose, who wrote the Macintosh's technical documentation, said the team had tears in their eyes and became depressed when it was announced the price of the Mac was raised from $1,995 to $2,495 to offset the massive marketing costs, because the people they built the computer for wouldn't be able to purchase it.
Apple CEO Mike Markkula then came on stage and thanked the entire Mac team for their accomplishment. Fernandez then symbolically presented Markkula with a plaque that had a trophy on top of it with six arms holding up a Mac, which said: "Apple and Macintosh would never have happened without you. Your participation changed the world."
After bringing out an original Macintosh and re-demoing the original demo Steve Jobs conducted at the product's introduction in 1984, Steve Hayden, the copywriter behind many popular Apple ad campaigns, including the famous "1984" commercial, gave a presentation on the history of Apple's advertising.


Hayden recounted the early development of "1984" to the 20-page inserts he helped create to explain how to use a Mac to the "Computer for the rest of us" tagline to the failure of the "Lemmings" Macintosh Office commercial to the resurgence of Apple advertising with the iMac's "Three Steps" ad.
In the final panel of the evening, CNET's Dan Farber moderated a panel that included third-party developers Mark Canter, Charlie Jackson, Jim Rea, Heidi Rozen, Ty Roberts, David Bunnell, Maryline Delbourg Delphis, Adam Hertz and Steve Jasik, focusing on how developing for the Mac changed their lives, echoing Apple's recent efforts to highlight how developing for the App Store and iPad has changed people's lives today.
Bunnell, who founded Macworld, remembered how he had worked with Steve Jobs and Apple to develop Macworld magazine in secret. Jobs initially didn't want to be on the famous first cover for Macworld, but was talked into it. Jobs later changed his mind, telling Bunnell he didn't want to be on the cover anymore, but Bunnell lied and told him it was too late and the magazine was already printed.
Finally, Jerry Manock, Caroline Rose and Patti Kenyon came on stage to read a letter from the Mac team to the Macintosh, and to the various Apple employees that attended the event:

Dear Mac, today you are celebrating your 30th birthday. Here are some things we wanted you to know as you enter your fourth decade. Your early family really loved you. We had lots of fun being pirates and working very hard together, before you were born. You were a cute, chubby little baby who has grown up to be as slender as a No. 2 pencil with the power of an NFL middle linebacker. You were writing and drawing sketches at a very early age, who would have guessed that you'd now be making movies all by yourself and sharing it with people around the world.

Your list of accomplishments is truly astounding. We are very, very proud of all the tasks you have mastered. Many more than we could have ever imagined! Never forget that your parents wanted you to always be respectful of the individuality of your users. And we hope that you will continue to help them communicate their uniqueness to each other.

You can't let vanity and compliments about your beauty stop you from always remembering your core purpose: fostering innovation and creativity. Finally, don't forget to keep your sense of humor. True artist not only ship, but laugh! Don't forget about the little Mac Man who used to run across the desktop every once in a while. So, have an insanely great happy birthday. We all wish you continued success in your next 30 years, helping pilot the Mothership.

Sincerely yours, members of the 1984 Macintosh Development Team.