In celebration of the Mac's 30th anniversary, Apple employees are being treated to a musical performance by popular band act OneRepublic at Apple's Cupertino campus.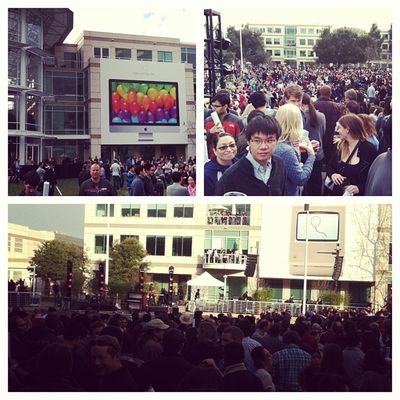 (Photo courtesy of @soulo1200s)
Celebrating Mac's 30th with some of my closest friends in Cupertino with OneRepublic. Awesome. — Tim Cook (@tim_cook) January 25, 2014
Apple holds a bi-weekly "Beer Bash" for employees at its campus that often includes musical performances when a bash coincides with a special event. Previous Beer Bash performances have starred Darius Rucker, Brad Paisley, Maroon 5, Cake, The Fray, and Phillips Phillips.
The company also decorated its Cupertino headquarters with
several
30th anniversary posters, which list every employee who has ever worked at Apple by badge number, and several Apple executives,
including Tim Cook
, have given
interviews
about the Mac to celebrate its birthday.