iPhone 5s Owners Using 20% More Cellular Data Than Last Year's iPhone 5 Owners
Owners of the iPhone 5s, Apple's latest flagship smartphone, are using significantly more data than iPhone 5 owners consumed last year -- twenty percent more, according to a new research report from JDSU (via TechCrunch), in what the writer of the study called an "unprecedented increase" in uplink and downlink data demands.
The report examined data usage in both developed and developing markets, across more than a million mobile device users. iPhone 5s and fourth-generation iPad owners used the most data, with the Android-based HTC Sensation and the Sony Xperia SP coming up closely behind.
Users of the latest iPhone 5s consume more downlink data than any other smartphone users in both markets under study, consuming almost seven times and twenty times as much as the benchmark iPhone 3G users. This is consistent with the trend seen over the past three years where users of the flagship iPhone devices were the most data-hungry smartphone users. As in past years, we are not in a position to directly identify the root causes of this data consumption.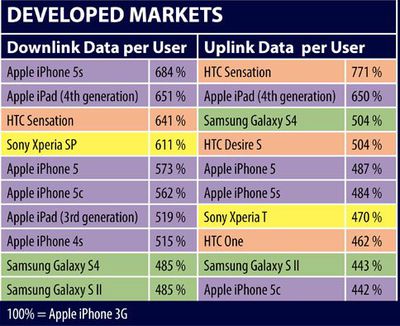 The study also found that iPhone 5c and iPad mini owners used less data than owners of Apple's more expensive devices -- though no easily-determined causal link can be drawn to those findings.
It noted that the top 1 percent of cellular users consume more than half of all downloaded data, with the top 10 percent of users consuming 90 percent of downloaded data. The company notes that this is broadly consistent with trends from the past two years. In addition, LTE data users, unsurprisingly, consume more data than users on slower data networks.