Tim Cook Asked About Larger iPhone at China Mobile Launch
After nearly six years of negotiations, the iPhone is finally available on China Mobile, which is the largest mobile carrier in the world with around 763 million subscribers. Apple CEO Tim Cook was on hand with China Mobile Chairman Xi Guohua at the carrier's headquarters store in Beijing at launch, according to Bloomberg.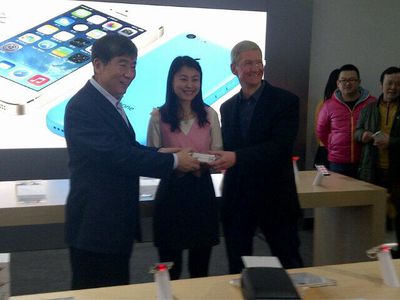 Tim Cook with China Mobile's Xi Guohua and a customer. Image via Eunice Yoon
Cook handed out autographed iPhones to the first few customers before he once again praised Apple's new cooperation with China Mobile.

"Today is just the beginning of China Mobile and Apple coming together to deliver the best experience in the world," Cook said as a few dozen people came in to look at the iPhones on display. China Mobile said Jan. 15 it signed a multiyear agreement with Apple containing "broad potential" for future cooperation.
Cook was soon asked whether the next iPhone would launch with a bigger screen, and responded that Apple does not like talking about future projects, but that they are working on "great things" and want to keep them secret because "you will be so much happier when you see it."

China Mobile is focused on attracting premium customers for the iPhone, Canalys analyst Nicole Peng told
Bloomberg
, because the carrier is concerned the high subsidy on the iPhone would impact their profitability. Fellow Chinese carrier China Telecom reported a 10 percent drop in net income in the first year of offering the iPhone, largely because of the higher subsidy.
On January 15, China Mobile said that 1 million iPhones had been pre-ordered in advance of launch. Estimates of Apple's potential iPhone sales have varied from 10-30 million units, with some claiming demand is lower due to satisfaction with China's other two carriers China Telecom and China Unicom as well as waning interest in iPhone because of increased smartphone choices in the country.