T-Mobile to Expand 'Un-Carrier 4.0' Initiative, Offer Switch Incentives to U.S. Cellular, Regional Customers
T-Mobile will expand its
recently introduced
"Un-Carrier 4.0" initiative, which saw the company offering to pay up to $350 in early termination fees for Sprint, Verizon, and AT&T customers who switched to T-Mobile. As part of the expansion, first detailed by
Re/code
, T-Mobile will pay the same contract termination fees for customers currently with U.S. Cellular and a dozen other small regional carriers.
T-Mobile also has plans to entice additional customers by accepting a larger number of handsets for trade-in, including damaged phones, albeit for a lower trade-in credit.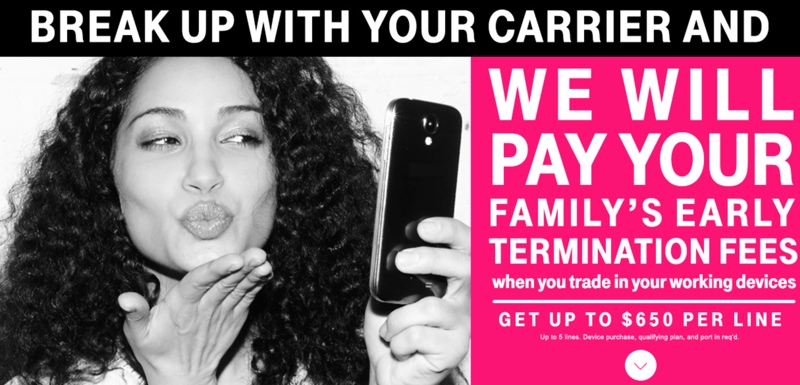 "This is not just a promotion," T-Mobile marketing chief Mike Sievert told Re/code on Thursday. "What we are trying to do is bring an end to unfair one-way onerous contracts in this country."
First unveiled last week, T-Mobile's early termination deal pays up to $350 per line in fees for individuals and families with up to five lines who switch from their current carriers and trade in their phones to T-Mobile.
Under the terms of the program, customers have to leave their current carriers, trade in existing phones (T-Mobile offers up to $300 per trade-in), sign up for a new T-Mobile plan and port a phone number. After the above qualifications are met, customers can send the final bill from their previous carrier (with termination fees listed) to T-Mobile for reimbursement via prepaid MasterCard.
According to T-Mobile, upwards of 80,000 "break-up" letters have been shared on social media sites in the last week by customers leaving their carriers for T-Mobile and signups have increased as a result of the program.