Sonnet Shipping First New Thunderbolt 2 PCIe Expansion Chassis
Sonnet today announced the first Thunderbolt 2 expansion chassis, allowing owners of late 2013-era MacBook Pro and Mac Pro models to add two or three PCIe cards to their machines.
There are three new options, desktop and rack mount three-slot chassis, plus a two-slot desktop version.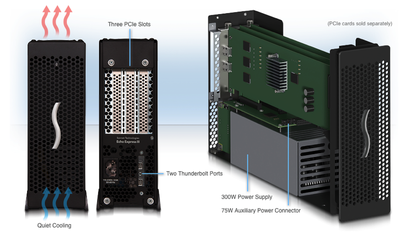 The Echo Express III-D, Echo Express III-R, and Echo Express SE II incorporate ultra-fast Thunderbolt 2 technology, which delivers twice the throughput of 10 Gb/sec Thunderbolt and provides sufficient bandwidth to support many of the highest-performance and most-demanding PCIe cards. The new expansion chassis support every kind of Thunderbolt-compatible PCIe card available — enabling the use of professional video capture, audio interface, 16Gb and 8Gb Fibre Channel, 10 Gigabit Ethernet, SAS and SATA HBA, and RAID controller cards with Thunderbolt-enabled iMac®, Mac® mini, Mac Pro®, MacBook Air®, and MacBook Pro® computers. Plus, the Sonnet systems' dual Thunderbolt 2 ports support full-bandwidth connectivity with Thunderbolt 2-equipped host computers, full backward compatibility with 10 Gb/sec Thunderbolt-equipped computers and devices, and daisy-chaining of other Thunderbolt 2 and Thunderbolt devices.
Customers who purchased Thunderbolt 1 equipped expansion chassis can get free upgrades to the Thunderbolt 2 version. All the Thunderbolt 2 chassis are fully backwards-compatible with older Thunderbolt equipped Macs.
The desktop three-slot version is available for $979, the rack mount three-slot is $1,199, and the two-slot desktop is $499.