Following the appearance of 15-inch models of the latest Retina MacBook Pro in Apple's online store for refurbished items over the weekend, 13-inch models have now debuted in the store, again offering discounts of roughly 15% compared to brand-new units. While a number of different configurations were available when the 13-inch machines first appeared late yesterday, Apple is currently listing only two of the three stock configurations as available with shipping estimates of 1-5 business days.
- 2.4 GHz dual-core Intel i5 with 4 GB RAM and 128 GB flash storage: $1099 ($200 savings)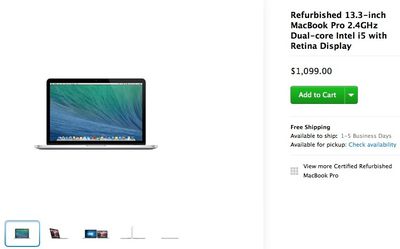 - 2.6 GHz dual-core Intel i5 with 8 GB RAM and 512 GB flash storage: $1529 ($270 savings)
The third stock configuration, a 2.4 GHz model with 8 GB of RAM and 256 GB of storage, is listed as out of stock but will be priced at $1269, a $230 savings.