Apple Taps UK Engineer for New Optical Image Stabilization System for iOS Device Cameras
In line with yesterday's report claiming that the iPhone 6 will retain an 8-megapixel rear camera while focusing on other aspects such as image stabilization to improve performance, the U.S. Patent and Trademark Office yesterday published an Apple patent application (via Unwired View) outlining a system for implementing optical image stabilization (OIS) with improved autofocus (AF) capabilities in miniature camera such as those found on iOS devices.
Apple's iPhone 5s introduced last September includes software-based image stabilization, a system that involves taking four photos in quick succession and then combining the best parts of each to produce a final image minimizing noise, subject motion, and hand shake. Optical image stabilization, found in some smartphones and many standalone cameras, allows the actual camera lens to move slightly, buffering against hand shake and other small movements.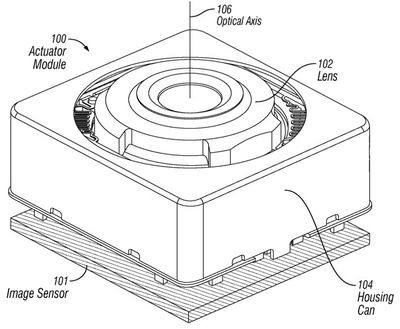 The newly published patent application from Apple describes a method for integrating optical image stabilization into the voice coil motor (VCM) actuators used for autofocus in miniature cameras.
An embodiment of the invention is an actuator module suitable for use in a camera, more specifically, a miniature camera. The actuator module may include a mechanism to provide an AF function and a mechanism to provide an OIS function. [...]

The combination of the AF mechanism and OIS mechanism within a single actuator module allows the actuator module to modify the position of the lens relative to the image sensor along five different axes (i.e., 5 degrees of freedom (DOF)). Representatively, the lens may be shifted or translated along at least three different axes and rotated about at least two different axes.


Apple's patent application, filed in October 2012 and based on a provisional patent application filed in July of that year, credits a sole inventor, Richard Topliss. According to his LinkedIn profile, Topliss joined Apple as a senior camera technology specialist in January 2012 after spending over a decade as chief technical officer of Cambridge Mechatronics in the UK. That company currently focuses on OIS actuators for smartphones, and today's patent application makes clear that Topliss immediately brought that expertise to bear at Apple.
Cambridge Mechatronics began sampling its latest OIS actuators to customers last August, with the modules expected to begin appearing in smartphones early this year. It is unclear whether Apple is working directly with Cambridge Mechatronics on lens module projects, but the two companies are clearly working on very similar technology and have a natural connection through Topliss.