CES 2014: Air Conditioner Debuts as First Smart Appliance 'MFi Licensed' for iOS Compatibility
Chinese appliance manufacturer Haier today announced that it has become the first such company to be accepted into Apple's MFi licensing program to certify compatibility with iOS devices. Haier's Tianzun cabinet air conditioning unit is the first appliance to carry the MFi designation, with expansion to other Haier appliances coming in the future.
Haier's Tianzun air conditioner is the first air conditioner and white good [major appliance] that is authorized by Apple's MFi program. Haier will use this technology in the other Haier products, such as water heaters, ovens, intelligent home accessories and the like. Users will be able to complete the setup simply by connecting to WiFi. The live demonstration showed that Haier's air conditioner could match the phone automatically and the user could set up parameters for the air conditioner directly without registration, setup password or any other complicated and time-consuming operations when connected to WiFi. And that brings consumers a simple, efficient experience of using smart appliances.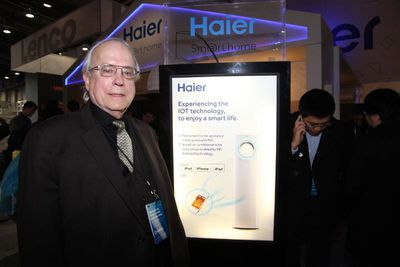 While smart appliances capable of being controlled through iOS devices are not new, a move by manufacturers to join Apple's MFi program may help give consumers confidence that the products meet Apple's standards for compatibility and functionality. The licensing program is already in wide use for such products as charging accessories, speaker docks, and more recently game controllers, but Haier's announcement today indicates that the program is poised for even greater adoption as the burgeoning market for connected home appliances continues to expand.