FaceTime Audio Coming to Macs With Next OS X Update
The OS X 10.9.2 beta first distributed to developers this afternoon includes Apple's FaceTime audio, a Voice over Internet Protocol (VoIP) feature that was originally introduced to the iPhone with iOS 7. With FaceTime audio on both iOS and OS X, Apple users will be able to seamlessly call one another from any device.
FaceTime audio is designed to allow users to initiate voice-only calls with other FaceTime users without turning on the accompanying video feed. Currently, Macs running Mavericks only have access to the standard FaceTime app, which bundles both video and audio.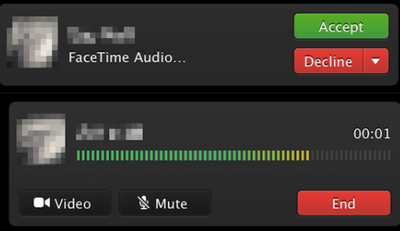 Users who are interested in voice-only communications on Macs have to resort to using third-party apps like Skype or switching to Messages, both of which allow for video chats and voice-only chats.
According to 9to5Mac, the FaceTime audio feature is "integrated deeply" into both the Messages and FaceTime apps, making voice communication between Apple users on any device easier than ever. With Messages, FaceTime, and FaceTime audio on iOS and OS X, Apple will have a complete communication system in place.
With a simple way to answer telephone calls and chat requests from all devices, those in Apple's ecosystem will have little reason to resort to alternative VoIP apps when communicating with other Apple users. FaceTime audio is also a high-quality VoIP choice, as it uses the AAC-ELD codec for Full-HD Voice. AAC-ELD is designed to provide CD-like audio quality for voice calls, delivering high speech and audio quality at a low coding delay.
It is unknown when OS X 10.9.2 will be released to the general public, but OS X 10.9.1 was in development for just over a month before it was distributed earlier this week. While Apple has been known to remove beta features ahead of release, it is likely FaceTime audio will make it to end users as it is already available on iOS.