Apple, China Mobile Have Yet to Reach iPhone Deal
Apple and China Mobile have not yet finalized a deal that will allow the world's largest carrier to sell the iPhone, reports Reuters. Earlier in December, a report from The Wall Street Journal suggested that negotiations were all but complete, with the two companies on track for a release sometime around December 18, the expected date for the carrier's 4G launch.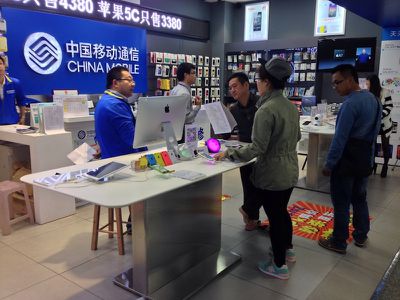 A China Mobile store promoting Apple products last week


While China Mobile did launch its 4G network earlier today, bringing 4G speeds to its more than 700 million customers, there has been no sign of an iPhone deal.
Xi Guohua, the chairman of the world's largest mobile phone carrier, said on Wednesday morning that his company had no announcement to make on any deal to carry Apple's smartphones. Xi was speaking to reporters on the sidelines of a conference in Guangzhou, a southern city of China.
Multiple signs of an approaching deal between the two companies have popped up during the final months of 2013, with Apple receiving licensing needed to operate on China Mobile's TD-LTE standard in September and releasing the iPhone 5s and the iPhone 5c with TD-LTE support.
Though a deal has not been struck, it is clearly in the final stages as China Mobile has been accepting iPhone pre-orders and heavily promoting both the iPad and the iPhone in stores across China.
China Mobile is expected to bring millions of new customers to Apple, significantly increasing the company's presence in China. While Apple currently has deals with smaller carriers China Unicom and China Telecom, both carriers combined have fewer subscribers than China Mobile.
Apple's stock price is currently down nearly 1.8 percent following the lack of a deal announcement.