China Mobile Stores Going All Out for iPhone and iPad Promotion
Following the start of pre-orders for the iPhone 5s and iPhone 5c on China Mobile earlier this week, new photos from PRC and ME show just how much the world's largest carrier is emphasizing its launch of Apple's products.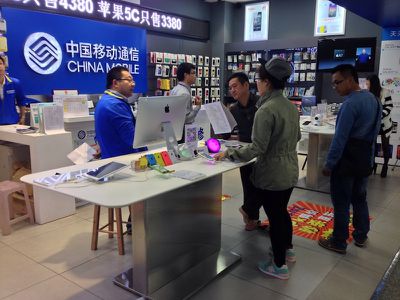 The carrier's relatively small store at the Link City shopping mall in Shenzhen is covered in Apple promotional signage, including wall-mounted banners and a large scrolling digital ribbon sign advertising discounted pricing on the new iPhones, extra free-standing signage, and even a flatscreen television replaying video of Apple's iPhone 5s/5c introduction from September.
Not only were there Apple advertisements all over the place, but even Phil Schiller was present, his A7 chip announcement playing on a flatscreen TV. A majority of the ad and display space in the store had been dedicated to Apple. If this is any indication, China Mobile is planning to aggressively promote their new Apple partnership in the hopes of blunting any advances from China Unicom and Telecom.
One of the store's two display tables is entirely devoted to Apple products, with iPhone 5s, iPhone 5c, iPad, and iPad mini units on display for customers to try out, extra iPhone 5c samples showing the various color options, and a China Mobile salesperson staffing the table at a large iMac.
The China Mobile iPhone launch comes just as market research firm Counterpoint Research revealed a significant jump in Apple's smartphone market share in China in October, with Apple leaping from sixth place to third with over 10% of the market on the strength of the iPhone 5s and 5c launches. With China Mobile opening iPhone availability up to millions of potential new customers beyond launch partners China Unicom and China Telecom, Apple is clearly looking to make a significant move in the world's largest market.