With Apple's new Mac Pro scheduled to launch this month but no exact availability date having been disclosed by Apple, many customers have been anxiously awaiting word on when the machines will be available for ordering. It now appears, however, that units are starting to make their way to Apple's retail stores, suggesting that a launch may be imminent.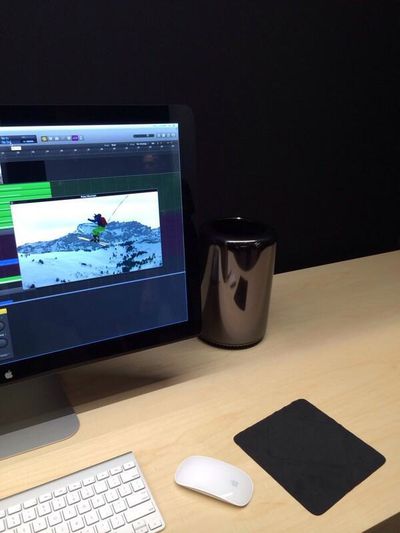 One Twitter user has posted a photo of the new Mac Pro on display today at the Bromley store in the United Kingdom. The Tweet has apparently since been deleted, but has remained viewable to some users due to caching.
A follow-up Tweet indicates the store has received just three units so far, with more due later this week.
Apple frequently releases new products on Tuesdays, and thus the delivery of new Mac Pro units to Apple's retail stores could point to a release tomorrow, although there have been no specific claims of a Tuesday launch.
Update: It appears that this image may be from Apple's October 22 event that gave press a chance to look at the Mac Pro.