Ahead of the launch of its Xbox One console, Microsoft today released its Xbox One Smartglass app for the iPhone and the iPad. The app is designed to allow users to navigate their Xbox One consoles using the keyboard and touchscreen of the iOS device, much like the existing Xbox SmartGlass app.
With Xbox One Smartglass, an iOS device can function as a remote control to maneuver through the Xbox One's dashboard. It also displays information on the device when playing music or TV through the console and it can be used to browse the web.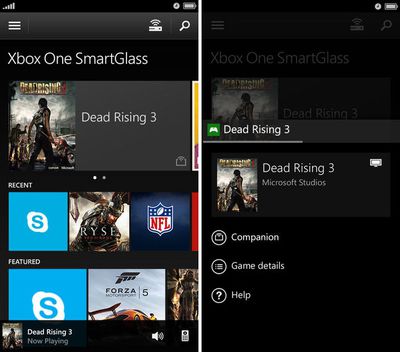 In addition, the app allows users to search for Xbox One content that can be saved for download on the console and it also facilitates achievement tracking and messaging. The app includes game help and game clips as well.
In the living room:
- Navigate your Xbox One console using your device's keyboard and touch
- Control your media and set top box with the SmartGlass remote control
- Browse the web on your TV using your mobile device
- Enhance what you are watching or playing with SmartGlass companions
- Increase performance with faster connections and reliability

In the living room and on the go:
- Search, browse, and pin content to play on your Xbox One console
- Track achievements, get game help, message friends, and watch game clips
Microsoft's Xbox One console will be available beginning on Friday, November 22. Xbox One Smartglass can be downloaded from the App Store for free. [Direct Link]