A Closer Look at Apple's North Carolina Renewable Energy Power Plant
After building large solar power and biogas fuel cell generating facilities at its Maiden, North Carolina data center, Apple is one of the of the largest non-utility clean energy generation companies in the country. As of a report earlier this year, Apple uses 100% renewable energy across all its data centers, plus 75% at its corporate facilities.
Gigaom's Katie Fehrenbacher went to the facility and has written an extensive article with a number of images of both Apple's two gigantic solar farms, as well as its Bloom Energy biogas fuel cell farm. In total, Apple generates roughly 50 megawatts at peak efficiency -- 40MW across two solar farms, plus another 10MW in fuel cells.
With Apple's data center consuming roughly 40 MW of electricity, at times of peak power production the company becomes a net power producer for local utility Duke Energy. Apple appears to be the only major Internet company with its own power generating facilities like these.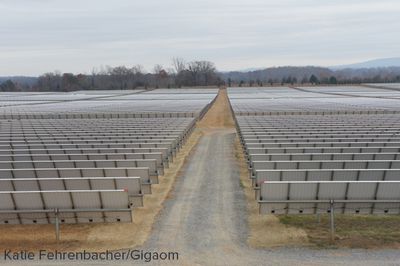 Apple's solar panel farms were built and are operated by Bay Area company SunPower. SunPower manufacturers high-efficient solar panels, solar panel trackers and also develops solar panel projects like Apple's. The solar farm across from the data center has over 50,000 panels on 100 acres, and it took about a year to build the entire thing.

Each solar panel on Apple's farms has a microcontroller on its back, and the panels are attached to long, large trackers (the steel poles in the picture). During the day, the computers automatically and gradually tilt the solar panels so that the face of the panels follow the sun throughout the day. The above picture was taken in the late morning, so by the end of the day, the panels will have completely rotated to face where I was standing. The trackers used are single-axis trackers, which basically means they are less complex and less expensive than more precise dual-axis trackers.
Apple works with a company that provides sheep to eat the grass underneath the solar panels, an environmentally friendly alternative to mowing.
For its fuel cell facility, Apple uses biogas fuel cells made by Bloom Energy. Biogas is an alternative to natural gas that can be captured from decomposing organic matter like landfills, water treatment facilities and farms. Natural gas is significantly cheaper, but is a nonrenewable fossil fuel.

When I was walking around the outside of the fuel cell facility I could also see a couple of people doing maintenance work on some of the fuel cells. I'm not sure what they were doing exactly, but fuel cells need some level of maintenance to keep them provided with the fuel, as well as to replace moving parts like fans. Every few years they also need to have a key part replaced called the stack, which can lead to expensive maintenance costs for the fuel cell operator.
Gigaom has much more about the facility in its article, and examines what a number of other tech companies are doing with regards to clean energy as well.
Renewable energy is a hot-button issue at the moment with some outside observers like Greenpeace pushing large Internet companies to adopt clean power for their data centers, which consume some 2 percent of the total electricity produced in the United States each year. Apple has worked hard in recent years to improve its public image with regards to the environment, and recently hired former EPA chief Lisa Jackson to head the company's environmental and sustainability efforts.