New Retina iPad Mini In-Store Availability Tracker Gaining Attention
Another unofficial web tracker for checking the availability of Retina iPad mini models at Apple's U.S. retail locations has surfaced, providing help to those attempting to purchase the supply-constrained device. Obscurely hosted on marine life conservation website Seaturtle.org, the website offers a grid view of inventory checks of each Retina iPad Mini model for every Apple Retail Store in the United States, displaying a green, red, or white box for availability, unavailability, or non-checked information, respectively.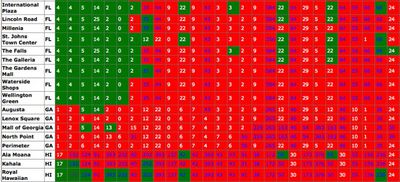 For model/location combinations that have not recently been checked, users are able to click on the cell content to update the data and check nearby stores. Users can also register for email notifications when specific models become available for pickup at their local stores. Apple launched its Personal Pickup option for the Retina iPad mini earlier this week, with stores seeing quick sellouts of many models. Walk-in sales of the device will apparently not be offered until supplies improve.


Last week, Apple shut down tracking website Apple-Tracker.com, which was dedicated to monitoring in-store pickup availability of iPhone 5s and iPad Air models, citing a terms of use violation, and a similar fate will likely befall this new tracker as it continues to gain attention.