Apple Shuts Down iPad Air and iPhone 5s In-Store Pickup Tracking Site
Several times in recent days, we've mentioned a website called Apple-Tracker.com that was allowing customers to easily monitor in-store Personal Pickup availability of iPhone 5s and iPad Air models.
The site offered a much more efficient method of checking for availability than on Apple's online store, showing product availability of all capacities of a given color/connectivity combination at the 20 closest retail store locations to a given zip code on a single screen. In contrast, Apple's online store requires users to select a single color/connectivity/capacity combination, enter a zip code, and then navigate through four pages of availability listings to see all 20 closest stores.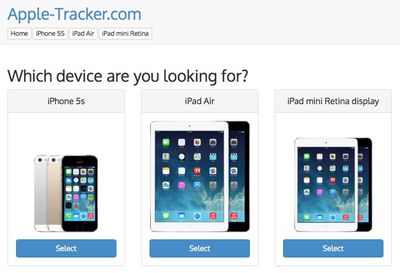 Late yesterday, the site's operator suddenly shut down the stock tracker, citing a takedown request from Apple's lawyers sent to Heroku, the cloud app platform where the tool had been built. The request had been sent by Apple on October 17 when the site was tracking iPhone 5s availability, but it had since expanded to include iPad Air and was preparing to track Retina iPad mini stocks as well. In particular, Apple cited the tracker's violations of the terms of use for its own site:
Your Use of the Site. You may not use any "deep-link", "page-scrape", "robot", "spider" or other automatic device, program, algorithm or methodology, or any similar or equivalent manual process, to access, acquire, copy or monitor any portion of the Site or any Content, or in any way reproduce or circumvent the navigational structure or presentation of the Site or any Content, to obtain or attempt to obtain any materials, documents or information through any means not purposely made available through the Site. Apple reserves the right to bar any such activity.
"Mordy", the tool's author, notes that he has no interest in fighting Apple on this issue, and so he has shut down the site.