Apple Inserting Entries for Its Own Stock iOS Apps and Services Into App Store Search Results
Apple has begun inserting special entries for some of its own stock iOS apps and services into search results for users on the iOS App Store, notes MacStories, which first picked up on the addition from a Tweet by Lukas Burgstaller.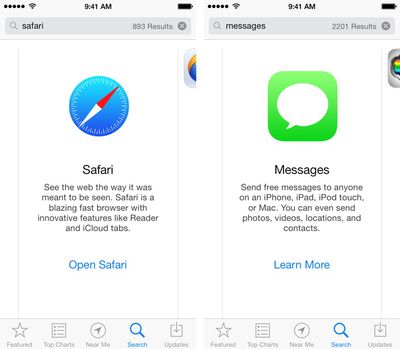 The results attempt to steer users searching for apps related to certain topics toward Apple's built-in offerings, perhaps reminding users that their needs may already be met without needing to resort to App Store apps. The special results can be seen with a variety of search terms, including exact matches for Apple's offerings such as "safari" and "siri" but also with more general terms such as "SMS" or "movies".
If you search for common terms like "web", "SMS", or "movies" in the iOS 7 App Store you'll see special search results for Apple apps like Safari, Messages, and iTunes with a large icon, a description, and a link to learn more or open an app (such as Safari). These results appear on the App Store for iOS 7 devices (I wasn't able to display them on a Mac using iTunes) and, in my tests, they also worked for queries like "browser", "messages", "cloud", "internet", "Siri", and "text". I've tried several other queries, but I couldn't see results for other apps like Reminders, Calendars, Mail, Photos, Music, or Notes.
Depending on the app or service showing up as the result, users can either directly open the app or be directed to pages on Apple's site to learn more.
MacStories notes that while the new feature is a good way for Apple to share information with new users who may be unfamiliar with all of the apps and services included on iOS devices, it could cause concern for third-party developers who might see it as Apple trying to discourage users from downloading their apps.