Another Magazine Advertisement for iPhone 5s Surfaces, Highlights 64-Bit A7 Processor
After Apple's first magazine advertisement for the iPhone 5s appeared two weeks ago, another spot for the phone showcasing the company's faster 64-bit A7 processor has surfaced, reports 9to5Mac. The ad depicts the iPhone 5s from a profile view, and includes a paragraph that describes the advantages of the processor in the context of all-around performance.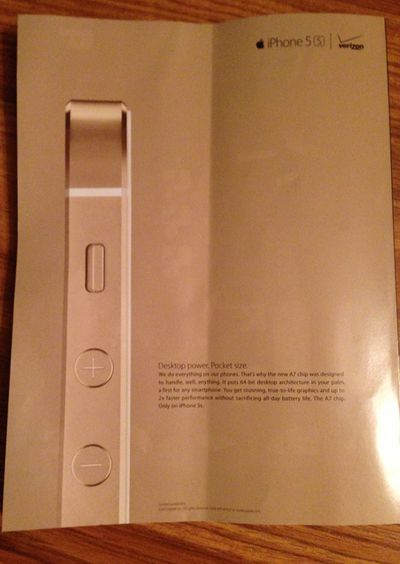 Desktop power. Pocket size.

We do everything on our phones. That's why the new A7 chip was designed to handle, well, anything. It puts 64-bit desktop architecture in your palm, a first for any smartphone. You get stunning, true-to-life graphics and up to 2x faster performance without sacrificing all-day battery life.

The A7 chip. Only on iPhone 5s.
The advertisement depicted includes Verizon Wireless branding, but Apple's iPhone ads have traditionally rotated branding between all the carriers that carry the iPhone, likely as part of a co-marketing agreement.
Apple has been running many television ads for the iPhone 5c in recent weeks, but we have seen relatively little about the 5s, likely because of tight supplies. Print ads for the device so far have mentioned 'limited avaliability' of the iPhone 5s in fine print.