Apple Sends Mac Pro Posters to Journalists: 'The Computer We Were Insane to Build'
Apple is sending a set of Mac Pro posters to select journalists, according to TechCrunch. Writers at CNET, Dallas Morning News and TidBITS have all received copies of the posters, which feature images of the Mac Pro's radical cylindrical design along with the following message:
It's the computer we were insane to build. The one that turns conventional thinking on its head, then kicks the living $#&% out of it. We challenged all our assumptions. Abandoned our preconceptions. And blew away limitation after limitation. This is the new Mac Pro. It's like no Mac we've created before. And we can't wait to see what you create with it.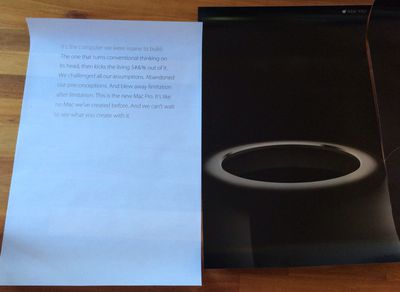 Images courtesy of TidBITS' Jeff Carlson
Apple on occasion sends promotional materials to members of the press. Earlier this year, the company gave select journalists
gift cards
featuring 100 handpicked songs to celebrate the company's 10th iTunes anniversary and Apple also
sent out
a 5th anniversary App Store poster as well.
First announced in June, Apple's redesigned Mac Pro starts at $2,999 and comes in several different configurations. The entry-level version includes a 3.7 Ghz quad-core Intel Xeon E5 processor, dual AMD FirePro D300 GPUs, 12 GB of memory, and 256 GB of PCIe-based flash storage.
With configure-to-order options, the Mac Pro can be customized with an 8-core or 12-core Xeon E5 processor, FirePro D700 GPUs, up to 64 GB of memory, and up to 1 TB of flash storage. While Apple has yet to provide a solid release date for the Mac Pro, it is expected sometime in December.