Intel's Iris Graphics Boost 13-inch Retina MacBook Pro GPU Performance by 50% or More
Apple's new 13-Inch Retina MacBook Pro has seen some impressive performance gains with its new Intel Iris integrated graphics, according to several benchmarking tests performed by Macworld. The site compared both the entry-level and high-end versions of the new 13-inch Retina MacBook Pro to an early 2013 Ivy Bridge model, which utilizes Intel's older HD 4000 graphics.
In the Cinebench r15 OpenGL test and the Unigine Valley Benchmark, the new Retina MacBook Pros saw frame rate improvements of 45 to 50 percent, and in the Unigine Heaven Benchmark, gains were even more impressive, at 65 percent.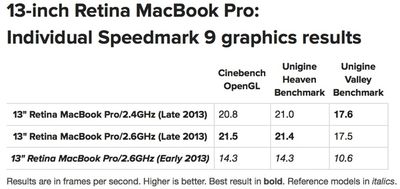 The GPU gains are in line with performance estimates provided by Intel in May, which suggested Iris graphics offered double or triple the performance of the Ivy Bridge Intel HD Graphics 4000.
Macworld also did several CPU benchmarks, finding an eight percent improvement with MathematicaMark 8 and a five percent gain with Cinebench CPU on the higher-end Retina MacBook Pro. The lower-end model saw just a one percent improvement on both tests over its Ivy Bridge predecessor. These improvements mirror early Geekbench results published earlier this week, which saw minor speed enhancements with the Haswell processors.


Finally, Macworld took a look at the PCIe-based flash storage that was included with the newest Retina MacBook Pros, finding that the higher-end Haswell model with 256 GB of flash storage was 33 percent faster than the older Ivy Bridge model when copying 6 GB of files from one folder to another. The lower-end Retina MacBook Pro didn't fare quite as well, seeing no speed gains.

To triple-check our findings, we ran Blackmagic's Disk Speed Test on all three 13-inch Retina MacBook Pros and found that the 500GB flash storage in new 2.6GHz model was more than twice as fast in the write test as the 120GB flash storage in the new 2.4GHz system, 710 MBps versus 315.9 MBps.

The read speeds were closer, with the new 2.4GHz's flash storage reading at 700 MBps and the new 2.6GHz reading at 733.9 MBps. The early 2013 2.6GHz Retina system had a write speed of 393.1 MBps, faster than the new 2.4GHz model, and a read speed of 451 MBps, significantly slower than the new low-end model.
Apple's newest Haswell-based 13-inch Retina MacBook Pros debuted on Tuesday and are currently available from both the online Apple Store and retail locations. Apple offers three different models, at varying price points that start at $1,299.