A number of news sites have been able to go hands-on with Apple's newly announced 13- and 15-inch MacBook Pros with Retina Display, both of which come with Intel's newest processors, offering increased battery life with improved performance.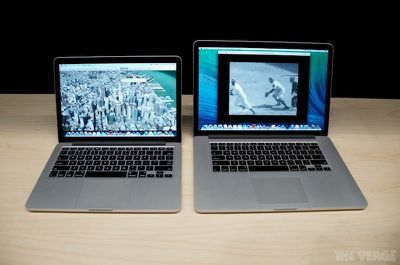 TechCrunch
says
that the slightly slimmer 13-inch model is a "big change" compared to the older model and will likely be much easier to carry around.
The 13-inch version is a big change, however – the 3.46 lbs compared to the 3.57 of the last generation may not feel like much, but combined with a thickness of just 0.71 inches, it feels like a lot, and will probably be even more impressive if you're carrying one around with you every day.
The Verge echoed that sentiment, noting that its new processor is a large improvement over the previous model.

Where the old model would stutter and lag on web pages and while working with images, the new model's Haswell processor with upgraded Iris graphics was totally smooth. Obviously we didn't get to test it too harshly, but if it holds up when we review it, the 13-inch Pro just reentered the conversation in a big way — especially since the base price is now just $1,299.
Unlike the 13-inch model, the 15-inch model doesn't seem to have a massive noticeable improvement on first impression. TechCrunch notes the new model seems "speedier" and "generally more responsive", while The Verge says the difference "isn't quite so clear."
Apple is offering the entry level 13-inch version for $1,299 and the entry level 15-inch model for $1,999. Apple's updated MacBook Pros are available today from its
Online Store
and at retail locations and come with Mavericks included.