Apple Sued Over Automatic iOS 7 Downloads to iOS 6-Powered Devices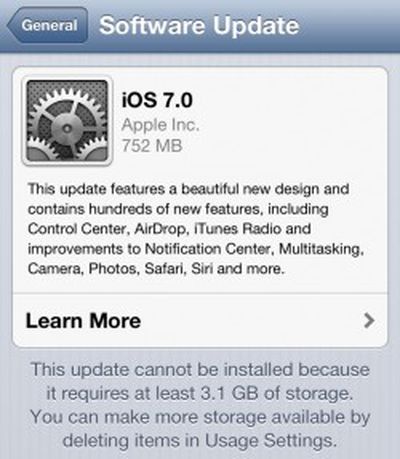 After iOS 7 was released, some iOS 6 users discovered that as much as 3GB of storage was being used up by an automated over-the-air download of iOS 7.
For many users, this was handy because they didn't need to wait for a large download to complete before updating -- but for those who wish to remain with iOS 6, they have found multiple gigabytes of storage used up by a software update that they will never use, with no way to free up that space.
One user, Mark Menacher of Poway, California, has filed suit in small-claims court against Apple CEO Tim Cook, alleging in a statement that "Apple's disregard for customer preferences in relation to iOS 7 is corporate thuggery".
Steve Jobs was reportedly rough on company employees in pursuit of happy customers, but Tim Cook apparently cultivates a culture of contempt for customer satisfaction in pursuit of corporate profits. It is a policy that will eventually fail.
According to CNET, Menacher asks for a way to delete the iOS 7 installer from his iOS 6 device, plus an additional $50. He has filed a similar complaint with the Better Business Bureau.