New iPhones Score Well with 'Consumer Reports', but Display and Battery 'No Match' for Android Competitors
Influential ratings and review magazine Consumer Reports has reviewed Apple's new iPhone 5s and iPhone 5c models, giving them high scores but calling the 4-inch Retina display and 8-10 hour battery life "no match" for Motorola's latest Droid smartphones. The full mobile phone ratings are behind the magazine's paywall, but the summary blog post outlines the magazine's thinking on the issue.
The iPhone 5s tops the already great iPhone 5 with a surprisingly reliable fingerprint reader, a faster processor, and better-than-ever camera. And the affordable iPhone 5c is a compelling offering for budget-minded buyers. Consumer Reports testers found both phones delivered better performances than the iPhones they succeed—they even have longer talk times (a tad less than 7 hours). [...]

Yet, battery life was still notably shorter than on other phones in our tests, including three of the latest Droids from Motorola, which ran for as long as 24 hours. Also, their small screens, while sharp and bright, can't beat the larger, sharper displays that adorn flagship models from Samsung, LG, and HTC.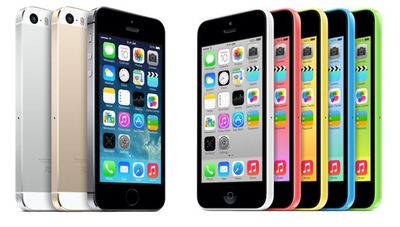 Many Android device manufacturers have been increasing the size of their devices and displays, pushing into so-called "phablet" territory, but Apple has so far kept to smaller displays facilitating one-handed operation. In a minor change, Apple increased the height of the iPhone's display with the iPhone 5 last year, but the 4-inch display now standard on Apple's latest iPhone and iPod touch models remains much smaller than seen on many competing devices.
Apple has reportedly been testing prototype iPhone designs with larger displays measuring between 4.8 and 6 inches diagonally, with a particular focus on 4.8-inch models. Apple does, however, routinely test a variety of different prototype designs and it is unclear if the company is planning to launch the larger-screen designs with the next iPhone hardware update presumably scheduled for next year.