Apple to Expand iTunes Radio to U.K, Canada, Australia, New Zealand and More by Early 2014
Following last week's news that iTunes Radio would be expanding to Canada within the next few months, Bloomberg is reporting that Apple plans expand the service to the U.K., Canada, Australia, and New Zealand by early 2014, ahead of competitor Pandora's own expansion. The expansion could also include Nordic countries.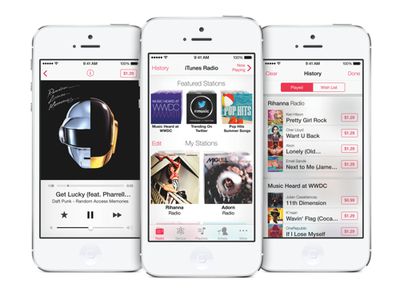 Apple Inc. plans to expand iTunes Radio to English-speaking countries outside the U.S. by early 2014, beating industry leader Pandora Media Inc. to the U.K. and Canada, people with knowledge of the situation said.

ITunes Radio is also set to start early next year in Australia and New Zealand, where Pandora already operates, said the people, who asked not to be identified because the plans aren't public. Nordic countries are also being targeted in the same time frame, the people said.
According to Bloomberg, Apple is able to roll out its service to additional countries more quickly than Pandora because it has already signed international rights deals with Universal Music Group and other record companies. Pandora, however, relies on rights "granted by government entities" which limits its service to the U.S., Australia, and New Zealand.
First introduced alongside iOS 7 in September, iTunes Radio is currently limited to listeners in the United States, though users in other countries can skirt restrictions with a U.S. iTunes account.
Apple's senior vice president of Internet software and services Eddy Cue has said that launching iTunes Radio worldwide is a top priority for the company, with Apple ultimately aiming to have the service "in more than 100 countries."