Calibration on iPhone 5s Compass and Level Appears Incorrect
iPhone 5s devices appear to be reporting inaccurate information through the compass and inclinometer apps, reports Gizmodo and Cult of Mac.
The compass appears to be off by 8-10 degrees, while the inclinometer is consistently incorrect by 2 degrees on level services.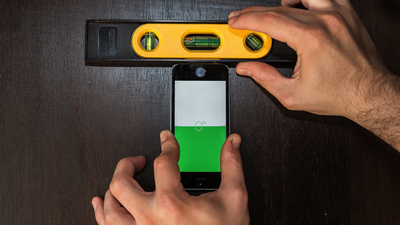 You see a pretty dramatic illustration of the difference between the iPhone 5S internal inclinometer readings and a real measurement of inclination. A simple Stanley spirit level tells the whole story: The iPhone 5S level readout in the iOS 7 compass software read 2-3 degrees off in our tests, while other users are reporting that the level is off by as many as 4-6 degrees. We performed the same test with an iPhone 5, and readout was almost perfect, indicating that hardware is at least partly the culprit. That also means a fix might not be as easy as an OTA firmware update.
There is a twenty-page thread on the MacRumors forums with readers reporting similar experiences with the compass and level on the iPhone 5s, as well as a number of threads on the Apple Support website.
It's unclear whether the motion sensors themselves are incorrect, or if it is just a calibration issue with the software interpreting the data and displaying it to the user. Apple has not commented on the problems. It's likely that a software update could fix the issues as the numbers appears to be fairly consistent across all iPhone 5s devices.
The M7 motion coprocessor is a big selling point of the iPhone 5s; it is supposed to act as a health and fitness tracker to measure steps and motion of the device with very little battery loss.