Apple co-founder Steve Wozniak and Atari founder Nolan Bushnell held an hour-long talk at the C2SV Technology Conference which MacRumors attended today in San Jose, CA, with the two speaking about a variety of topics including reminiscing about Steve Jobs and the early days of Apple.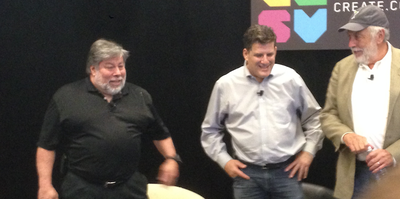 The duo started out remembering how they first met, which was due to the influence of Jobs. Wozniak started out by remembering Jobs wanting to apply to Atari:
I'd known Steve Jobs for a long time. And I had seen Pong in a bowling alley and I had to have one. And pop in my head: I know how televisions work and I know how to design anything so I built my own Pong. And Steve came back from Oregon at the time, where he had been going to school, and I gave him my board. He wanted to run down and apply for a job at Atari.
Wozniak then mentioned how he was "so thankful" Atari hired Jobs even though Jobs wasn't an engineer, noting that he must have impressed Bushnell and Pong designer Al Alcorn with his high energy and enthusiasm. Bushnell agreed and related a story about how Jobs came in after just a couple of days on the job to tell Bushnell how no one at Atari knew how to solder.
He said: 'This stuff won't work for more than a few weeks without having failure. You've got to up your game a little bit.' And I say: well, do you know how to solder? And he says 'absolutely, this is shit'.
Prompted by that anecdote, Wozniak reminisced about how when he and Jobs were working on Breakout for Atari, Jobs avoided soldering and instead used wire wrapping.
Later in the conversation, when talking about the lack of venture capital in the early days of the Silicon Valley, the two had a lighthearted back-and-forth about Apple's early Apple I pitches to Atari and Commodore. Wozniak mentioned how Apple had to take on an investor at a certain point, prompting Bushnell to jokingly reply he wished that he had been that investor. Wozniak then countered, reminding Bushnell that he had rejected Apple's proposals:
We offered to Commodore directly making proposals and to Al Alcorn at his house making proposals, but you guys had the first Pong handle coming out and that was millions of dollars for you so your mind was so focused. You said 'we don't have time to make a computer also' and that came about later.
The two then debated what the original deal was, with Bushnell claiming the deal was $50,000 for a third of Apple while Wozniak said the deal was a few hundred thousand dollars, a position at Atari, Atari company stock, and to be in charge of the project. Eventually, Wozniak conceded, noting that he may not have known about Bushnell's claimed deal and quickly remembered how he wanted to keep quiet as he was amazed that Jobs was trying to get $300,000 from Commodore during that proposal.
Some time later, Bushnell praised Wozniak for creating the Apple II and noted that the computer's eight expansion slots turned out to be a "prescient" idea. Wozniak then admitted Apple didn't plan that and lucked into adding eight expansion slots because he insisted on them from his "geek" perspective.
The two wrapped up talking about Jobs by discussing the intensity of the young Jobs and how that is the one quality any future books or movies should hone in on. Wozniak noted that Jobs' intensity caused him to fail with some projects, like the Lisa and the early Macintosh effort, and only once Jobs learned patience to complement his intensity is when things really took off.