Apple Highlighting iPhone 5s and iPhone 5c Reviews by Tech and Mainstream Press
Apple today added a
new page
to its website featuring reviews of the new iPhone 5s and iPhone 5c from a number of prominent publications and sites. Carrying the tagline "It seems we've given people a lot to talk about," the review page is currently being featured on Apple's
main iPhone page
.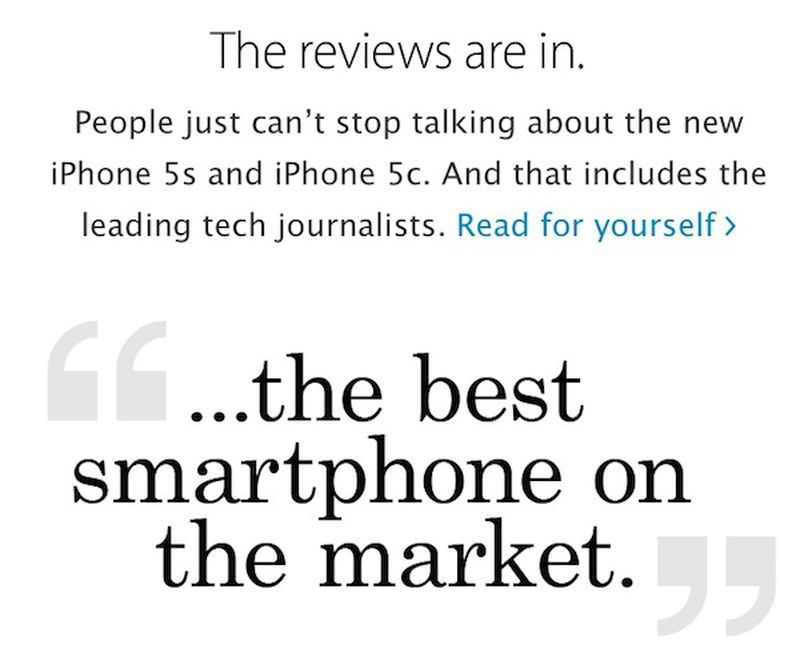 The feature page contains quotes from and links to reviews from
The Wall Street Journal
,
The New York Times
,
Time
,
CNET
,
USA Today
,
Esquire
,
Engadget
,
Daring Fireball
,
AnandTech
, and
TechCrunch
. Most of the quoted and linked reviews cover the iPhone 5s, although several address the lower-cost iPhone 5c as well.
Most of those reviews for the
iPhone 5s
and
iPhone 5c
were published on Tuesday, September 17, several days before the devices launched to the public. Apple introduced the devices at a September 10 media event, and provided review units to several publications in advance of the public release, allowing them to publish their reviews in a coordinated release late on the 17th.