In addition to grand openings for new Apple retail stores in Virginia and British Columbia scheduled for this Saturday, the company will also be opening its new OEZ retail store in Munich, Germany. The store will be the company's second in Munich once it opens to the public at 9:30 AM Saturday.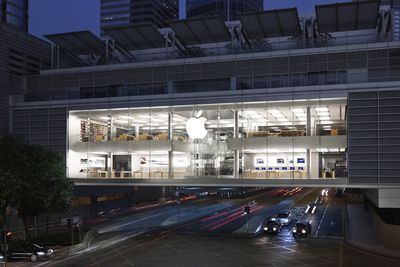 Apple's ifc mall retail store in Hong Kong
Apple is also planning an expansion to landmark
ifc mall retail store
in Hong Kong, according to a
report from The Wall Street Journal
. The current $50 million store
opened almost exactly two years ago
in a highly visible location bridging a roadway, but the store's size is insufficient to handle the traffic it sees as one of the busiest Apple stores in the world, and the company is now making plans to expand the the store to a third level.
The Apple store in IFC, opened in 2011, is one of Apple's top-performing stores globally, according to Mr. Azar. Currently, it is only a third of the size of the company's flagship store on Fifth Avenue in New York, though it is adding a new floor, going up one level.

An Apple spokeswoman declined to comment, but pointed out that Apple in the past has said that its Greater China stores have the highest traffic and the highest revenue on average of Apple stores around the world.
As pointed out by ifoAppleStore, Apple will be displacing the Agnes b. clothing store and Le Pain Grillé café currently located on the third floor, but it is unclear whether the expansion is a recent decision by Apple or if the larger footprint was always in the plans but phased in due to leases held by the other mall tenants.