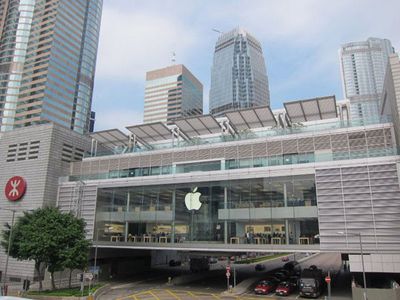 Apple opened the new Hong Kong retail store to the press, providing the first look inside the massive new two level store. NeonPunch provided this video walkthrough (and photo gallery), and reports that Apple has hired over 300 employees to work at the store. The new store is also complete with a spiral glass staircase in the center.
Meanwhile,
MICGadget
reports that Apple CEO Tim Cook is rumored to be making the trip to Hong Kong to attend the opening ceremony. The new Hong Kong store will be opening on Saturday, September 24th at 9am. The report also suggests that Cook may attend the grand opening of the
Nanjing East store
in Shanghai. Cook's travel schedule may explain the unusual Friday opening for the Nanjing East store.
Thanks to our reader for the photo