Adobe Unveils Photoshop and Premiere Elements 12 for Mac
Adobe today released new versions of Photoshop and Premiere Elements, its lower-cost photo and video editing software aimed at consumers. Photoshop Elements 12 and Premiere Elements 12 have been revamped with several new features, focusing heavily on mobile integration.
"Our customers have a lot of photos and videos, and they love to use their home computers to organize them and be creative, but they also want the freedom and flexibility to view, edit and share on their mobile devices," said Lea Hickman, vice president products, Creative Consumer Business, Adobe. "Photoshop Elements 12 and Premiere Elements 12 will provide customers with the best of both worlds, quickly, easily and at their discretion."
Both Photoshop and Premiere Elements 12 offer Mobile Albums, allowing the software to integrate with Revel, Adobe's cloud photo storage solution. With Revel support, Elements 12 users are provided with access to their photos and videos on all of their devices.
Photos edited in Revel sync with Photoshop Elements, and vice versa, while Revel support for Premiere allows seamless mobile video uploads. Sharing photos and videos has been enhanced, allowing content to be posted to Facebook, YouTube, Vimeo, Twitter, and more, directly from the Editor.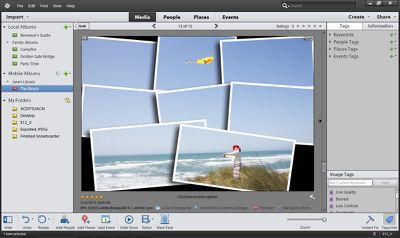 Photoshop Elements 12 offers several new editing features including Content-Aware Move, Pet Eye Correction, Auto Smart Tone, and Quick Frames, Effects, and Textures.
Content-Aware Move is a smart editing tool that autofills the background of an object that has been moved within a photo, allowing for quick edits. The functionality is bundled into a new Straighten Tool as well. Pet Eye Correction works much like red-eye removal but is aimed at pets, and Auto Smart Tone is designed to learn a user's editing preferences for faster adjustments.


Quicker editing is also possible with Quick Frames, Effects, and Textures, which are one-click filters and modifications, and the software has been designed to be easier to use with improved Guided Edits, offering step-by-step instructions to complete a number of tasks such as photo restoration.
Premiere Elements 12 has been updated with Guided Edit support too, providing tutorials for users that are new to video editing. It includes instructions on trimming frames, adding scores, animating graphics, and more.


The video editing software includes more than 50 new soundtracks along with 250 sound effects. Auto Smart Tone, the tool that learns user editing preferences, has also been incorporated into Premiere 12, along with four new filters or "Looks" that can be applied to any video. Looks include Comic, Trinity, Yesteryear, and Cross Process, and with new Motion Tracking support, effects like speech bubbles and other effects can be added to videos.


Both Photoshop Elements 12 and Premiere Elements 12 for Mac and Windows can be purchased on Adobe's website for $100 each (or $80 for users upgrading from a prior version). A bundle is available for $150 (or $120 for upgrades). Adobe's Revel app for iOS can be downloaded from the App Store for free, and includes 50 photo or video uploads per month. [Direct Link]