Gold iPhone 5s Models Seeing Little to No Stock for Launch Day in Australia [Updated]
With Apple's official Australian launch for the iPhone 5s just a short time away, evidence of significant shortages of gold models is beginning to surface, with one Twitter user at the Doncaster retail store sharing word from store staff that they have no gold models on launch day and may not have any for up to three weeks.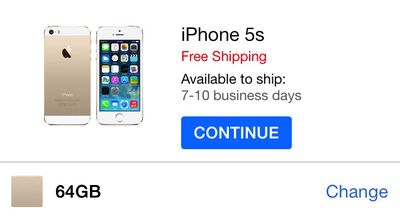 In a similar vein, it appears that the Apple Store iOS app has begun taking orders for the iPhone 5s in Australia, with Sonny Dickson sharing a screenshot showing that the gold 64GB iPhone 5s debuted with a shipping estimate of 7-10 business days.
It is unclear if the dearth of gold models will extend to other first-wave markets, but signs are increasingly pointing to the new color being very difficult to find at launch.
Update: The Australian Apple Store is now back online and showing 7-10 business days for colors and capacities of the iPhone 5s.
Update 2: Apple's Hong Kong and Singapore online stores are showing shipping estimates of October for all iPhone 5s models.