Apple Adds 'Designed for iOS 7' Section to App Store
Following the public release of iOS 7, Apple has added a new "Designed for iOS 7" section to its App Store. The section highlights apps that have been updated or released with an iOS 7-style design, including notable offerings like Evernote, OmniFocus 2, and Perfect Weather, a new app released yesterday.
Apps in the section can be organized by name and release date, and there's also a "Featured" tab that highlights prominent apps like Zillow and NBC. Currently, there are approximately 45 apps in the list, and more will presumably be added as updates from developers go live. We have also created a roundup featuring details on a multitude of iOS 7 app updates.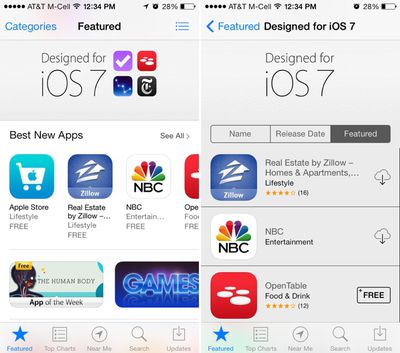 Apple's list of apps that support iOS 7 can be accessed on the front page of the App Store on the iPad or the iPhone and through the iTunes App Store. Apple is also highlighting a number of newly released iOS 7 games, including Angry Birds Star Wars II and Infinity Blade III, which has been optimized for both iOS 7 and the upcoming iPhone 5s.
Though iOS 7 was released this morning, Apple's servers appear to be overwhelmed, preventing some users from obtaining the update. iOS 7 can be downloaded via iTunes or over-the-air, as detailed in our iOS 7 post.