Apple is finalizing lease plans for the luxury shopping mall planned for the World Trade Center site, according to a report from IFOAppleStore.
IFO claims the mall developer has already signed a lease with Victoria's Secret and negotiations are in process with Michael Kors, Swatch and Abercrombie & Fitch, among other retailers, including Apple.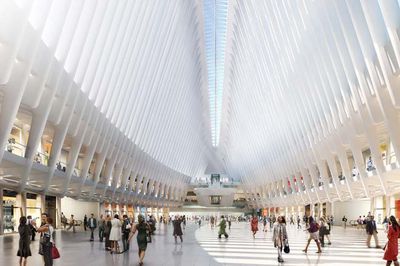 The website for the project contains a number of renderings of the proposed buildings, including the one above of the shopping area.
A one square-block memorial park has already opened at the site, and work is well underway on one of four high-rise office towers that will surround the park. The shopping mall will occupy space under three of the towers, and on the lower floors of two towers. Perhaps not coincidentally, the three towers were designed by architects Foster + Partners, who are working on Apple's new California headquarters and the future San Francisco 2 retail store. Construction on the three office towers and a major transit station is in the early stages. The mall is scheduled to open in 2015, when the Apple store would open.
Apple already has a number of Apple Retail Stores in New York City including
Fifth Avenue
,
Grand Central
,
SoHo
,
Upper West Side
, and
West 14th Street
. The company has long been rumored to be looking at locations for a new store in the Williamsburg neighborhood of Brooklyn.