An exploit that causes both Macs and iOS devices to crash was discovered yesterday, reports 9to5Mac. A specific sequence of Arabic characters causes an error that will crash any application that uses the WebKit engine in either Mountain Lion (OS X 10.8) or iOS 6.
When sent via text message, iMessage, Messages, or typed in Safari, the sequence of characters will cause apps to crash.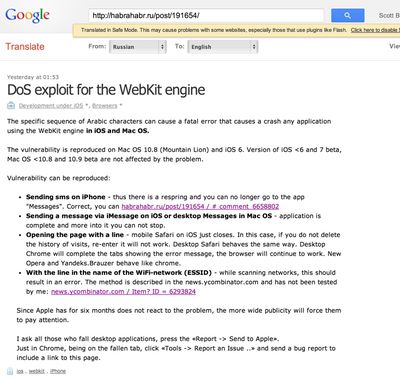 This bug does not work on any other operating systems and does not allow anyone else to access your computer remotely because of it, but being a recipient (or even sender) of these characters may make your Messages app unusable, cause Safari/Chrome to crash, or not allow for scanning of SSIDs (if the string is broadcasting as a Wifi network name).
Apple has fixed the exploit in both iOS 7 and Mavericks (OS X 10.9), which means people running those operating systems are not vulnerable. All other users can be affected by the issue, which has apparently existed for more than six months.