Twelve South, the Apple accessory company behind the popular BookBook series of cases and a number of different stands, today introduced GhostStand, a new transparent stand designed to elevate any Mac notebook model.
GhostStand floats your MacBook display over six inches off your desk or table to a more comfortable viewing height. Park any MacBook on GhostStand and pair it with your favorite full-size keyboard to enjoy the comforts of a desktop system. The criss-crossed blades on this nearly invisible stand allow for grab-n-go convenience. When you're ready to pack up your MacBook and hit the road, simply unplug your power cable (and any USB cords) and go, leaving a mysterious sculpture behind.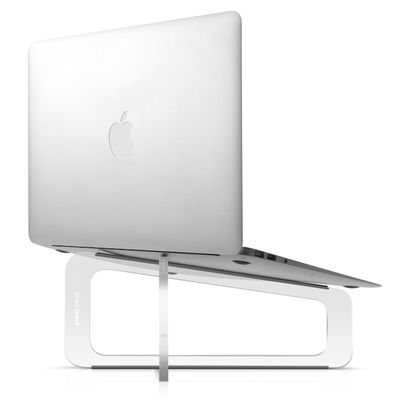 The top and bottom edges of the stand include double-inlaid brushed metal rails lined with silicone to grip the user's notebook and protect the desk surface.
Twelve South touts that GhostStand is one of the lowest-priced MacBook stands available, priced at $34.99. The GhostStand can be ordered via Twelve South's site or through the online Apple Store.