Users Experiencing Extended iMessage, iCloud Service Outages [Update: Restored]
Apple's official Services, Stores, and iCloud status page is reporting that multiple services are experiencing an outage that is affecting "less than 1% of users". Among the services down are iMessage, Photo Stream, and Documents in the Cloud, and according to Apple the services have been out for over eight hours now.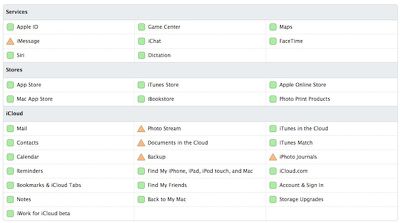 Multiple Services - Less than 1% of users are affected

Users may be unable to use iCloud Documents, Photo Stream, iPhoto Journals, or Backup & Restore. Users may also be unable to send or download attachments in iMessage.
Apple's verious cloud services have experienced occasional downtime, although outages extending for this length of time are fairly unusual. This extended outage does, however, only appear to be affecting a relatively small number of users.
Last month, Apple's Developer Center was completely down for over a week due to a security breach, with Apple taking over three weeks to bring those services fully back online.
Update 9:09AM PDT: Apple claims all services have been restored.