Apple today announced that it will be making changes to its affiliate program for its digital content stores, bringing on a new partner to help expand participation to new countries. Under Apple's affiliate programs, participants can earn commissions on revenue generated through links to the iTunes Store, App Store, Mac App Store, and iBookstore in various countries. The program also provides a number of tools to help website owners add digital content from Apple to their sites.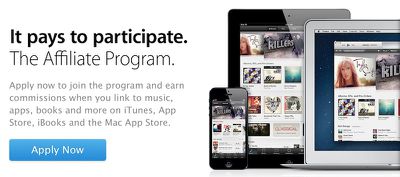 The existing program uses four separate affiliate networks to provide coverage for a number of countries:
- LinkShare: United States, Canada and Mexico
- Tradedoubler: Europe and Brazil
- LinkShare Japan: Japan
- dgm: Australia and New Zealand
The revised program is streamlined to just two affiliate networks, while also including a significant expansion in the number of countries where commissions are earned.
Performance Horizon Group (PHG): United States, Canada, Mexico, Japan, Australia, New Zealand, Russia, Turkey, and many countries in Asia, the Middle East, and Africa

Tradedoubler: Europe and South America
Notably, program participants currently registered for the LinkShare, LinkShare Japan, and/or dgm networks will need to set up a new account with PHG and update their links by October 1 in order to continue receiving commissions. Additional information is available on Apple's Affiliate Resources page.