Apple is aiming to encourage Mac usage to its business consumers by displaying iMacs running a copy of Microsoft's Windows 8 operating system within Parallels Desktop 8 for Mac in the business section of its stores, according to a report from 9to5Mac. Apple Retail Stores will also train business specialists on using Parallels and Windows software as part of the initiative.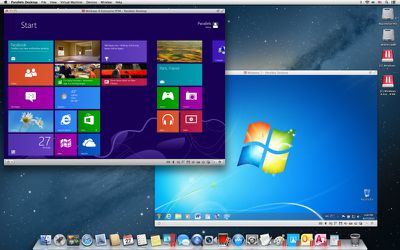 Apple currently includes a section on its website with information on how to run Windows and its associated software on a Mac through Boot Camp, a multi boot utility introduced in Mac OS X Leopard. However, virtualization software such as Parallels Desktop and VMWare Fusion have been alternative choices for users who want to run Windows on a Mac due to the non-requirement of a reboot and the ability to run Windows simultaneously within an active session of OS X.
The latest version of Parallels, Parallels Desktop 8, was released last August, adding new features such as full support for Windows 8 and automatic visual optimization for the software when running on Retina displays.
The standard edition of the software retails for $79.99 on Apple's Online Store, though pre-orders have begun popping up for the next generation of the software, Parallels Desktop 9. Currently, Amazon Germany and Apple Authorized Reseller MacMall have the software for $74.99 with an expected release date of September 5.