Apple's App Store Still Number One in Revenue Despite Google Play Growth
According to a new report from App Store analytics firm Distimo, Apple's App Store revenue still tops Google Play revenue despite the latter's increase in growth over the past six months.
While Apple's App Store revenue increased 15% over the course of the last six months, Google Play revenue increased 67%. In July alone, Google Play saw 11% growth, compared to the App Store's 3%.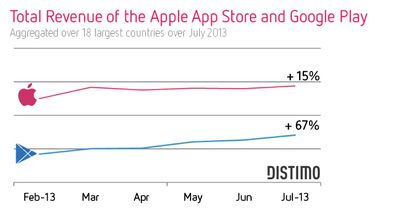 A similar report from App Annie two weeks ago confirmed that App Store revenue remains 2.3 higher than Google Play revenue even though Google Play downloads eclipsed App Store downloads during the second quarter of 2013.
The majority of the App Store's revenue comes from the United States, followed by Japan and the United Kingdom. Though some countries like Russia spent more on iPad apps than iPhone apps, iPhone apps remain the biggest earners. While South Korea was also a top app spender, it was a majority contributor to Google Play revenue.


Distimo also looked at the top earning apps for July, finding that Candy Crush Saga continues to generate the most revenue in both the App Store and Google Play. In April, the company behind Candy Crush announced that it had earned more than $195 million in revenue, and it is estimated that the app earns approximately $800k per day.
While freemium-based Candy Crush Saga earned the highest amount of revenue overall, WhatsApp Messenger and Minecraft - Pocket Edition were the highest earning paid apps. Despicable Me: Minion Rush, another free app, saw the highest number of overall downloads, followed by Google Maps.
Distimo's app data comes from its app store analytics tool AppIQ, which tracks more than three billion downloads per quarter for developers worldwide.