Samsung Reportedly Becomes Primary iPad Display Supplier as Next-Generation iPad Mini Grows Closer
According to a new report from market research company NPD DisplaySearch as related by CNET, Samsung has supplied more 9.7-inch panels for the fourth-generation iPad in recent months than any other Apple supplier, including longtime partners LG and Sharp.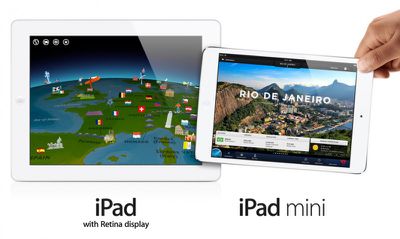 Apple, in fact, has been boosting purchases of displays from Samsung since January, according to the market analyst. Apple got about 2.3 million units from Samsung in the first quarter. That figure jumped about 80 percent quarter-to-quarter to more than 4.1 million units in the second quarter, according to DisplaySearch.

The report also claims that Samsung, LG, and Japan Display will also begin supplying 7.9-inch panels for the next-generation iPad mini, although it declines to state whether the displays will be of Retina resolution or not. A Wall Street Journal story last week stated that the next-generation iPad mini is indeed likely to feature a high-resolution display from Samsung, with screens also being supplied from LG and Sharp. The next-generation iPad mini is expected to launch sometime in the fall.
Apple has been reported to be seeking to reduce its reliance on Samsung as a component supplier due to continuing tensions between the two companies as they have increasingly become top competitors in the mobile device market. But it has been reported for several months now that Apple is returning to Samsung as a display supplier due to its technological advantages and production capacity.