Nokia Launches Lumia 925 Advertisement Bashing iPhone Camera
Nokia has taken a page from Microsoft's advertising book, today launching (via UKMR) a new advertisement comparing the company's Lumia 925 to the iPhone 5.
The ad focuses on the phone's photographic capabilities and is based on Apple's well known "Photos Every Day" commercial, which began running back in April. It uses a similar voice over and style, focusing on Lumia users taking photographs with their devices.
"Every day, more photos are taken on the iPhone than any other phone. But at Nokia, we prefer to build for quality, not just quantity."
The ad goes on to feature the Lumia 925's various photo modes, offering demonstrations of the camera's action shots, motion blur, and best shot feature that captures a series of photos and allows users to choose the most appealing.
Nokia's Lumia 925 offers an 8.7-megapixel camera that comes equipped with a Carl Zeiss Tessar lens and an f/2.0 aperture. In comparison, the iPhone 5 has an 8-megapixel camera with a five-element lens and an f/2.4 aperture. Nokia has included a dual-LED flash on the Lumia 925, which, along with a lower aperture, allows for superior performance in suboptimal lighting conditions.
Nokia highlights the Lumia's flash and low light capabilities towards the end of the commercial, providing side-by-side comparison photos taken with each camera. "Every day, better photos are taken with Nokia Lumias then with any other mobile," reads the final line.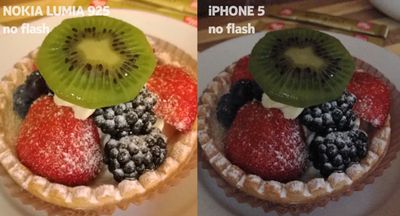 In recent years, Nokia has focused heavily on the photographic capabilities of its devices, most recently debuting the Lumia 1020, which offers an impressive 41-megapixel camera with a six component Zeiss lens.
Apple is expected to greatly improve the iPhone's camera with the release of the iPhone 5S later this year, offering a 12-megapixel camera, several new photographic modes, and a dual-LED flash.