Apple Notifying Former MobileMe Customers of Impending iCloud Storage Downgrade
In 2011, when iCloud replaced MobileMe, Apple gave paying MobileMe customers an additional 20GB of iCloud storage as a thank you for their purchase. That storage was to be discontinued in September of 2012, but Apple ended up giving MobileMe users another year of storage for free.
Now, however, the complimentary iCloud storage plan will be expiring at the end of next month, on September 30th.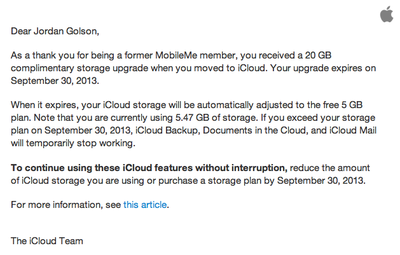 For customers using more than 5GB of storage, they will be required to purchase an additional 10GB of storage for $20/year, 20GB for $40/year, or 50GB for $100/year, or a number of iCloud features -- iCloud Backup, Documents in the Cloud, and iCloud Mail -- will stop working on the 30th until the issue is resolved.