Rear Shell of Apple's Low-Cost iPhone Compared to Other iPhones and iPod Touch in New Video
We've been hearing a lot of rumors about a new plastic iPhone due to arrive later this year, dubbed the "low-cost iPhone" by some, and a video posted by DetroitBORG on YouTube (via AmongTech) shows the new rear shell of the plastic iPhone, which is expected to replace the existing iPhone 4 and 4S models already on sale.
In the video, Mike from DetroitBORG walks through the various features of the new rear shell and speculates on what features the new "low-cost iPhone" will have. While the shell appears to be essentially identical to one that
leaked
earlier this month, the video offers a good comparison between the shell and several of Apple's other iOS devices, including the iPhone 3GS, the iPhone 5, and the fifth-generation iPod touch. The shell for the lower-cost iPhone is about the same dimensions as the current iPhone 5, though a little thicker.
Previously leaked design drawings from case makers have shown the rear shell measuring 8.5 mm thick, 124.4 mm tall, and 59.2 mm wide, all slightly larger than the iPhone 5 with the thickness difference being the most noticeable. The rear shell shown in the video is white, although it is also rumored that Apple will release the low-cost iPhone in a range of different colors, similar to the fifth-generation iPod touch.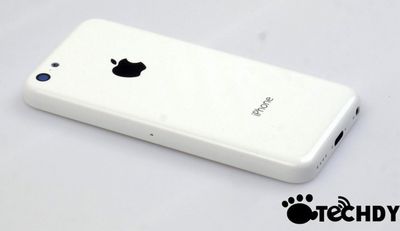 Apple has been reported to be releasing a cheaper iPhone to target the lower end of the market and to expand its market presence in developing countries such as India, where iOS accounted for a mere 1% market share in mobile operating systems in June 2013, according to StatCounter (by contrast, the figure for the United States in June 2013 was 54.9%), as well as to compete with lower-priced Android smartphones, which have exploded in popularity recently.
The "low-cost" iPhone has been rumored to be priced anywhere from $300-$500 unsubsidized, with carrier subsidies likely to bring the cost down to $99 in markets where those subsidies are offered.