Apple's In-Car Technology Ambitions Revealed in 'Digital Dash' Patents
Earlier today, the U.S Patent and Trademark Office granted a patent to Apple (via AppleInsider) addressing in-vehicle navigation and information systems based on touchscreens offering tactile feedback. The feedback would allow users to operate their vehicle's systems in a safer manner while keeping their eyes on the road.
The disclosed invention, including co-pending applications incorporated by reference, contains unique embodiments which allow one to interact, by feel, with a display, called herein a "programmable tactile display". It encompasses two main focus areas: A display having features commonly associated with a touch screen, but in a new form which can be sensed in several tactile manners, as well as visually. A tactile selection or adjustment means, such as a knob, slider, or switch, programmable in its tactile or visual nature, and generally operated in conjunction with the touch screen just described.
The inventor listed on the patent is Timothy Pryor of Windsor, Ontario, and as we investigated his background we discovered that he is responsible for a concept he calls "Digital Dash", emphasizing a tactile display using knobs and switches that can be dynamically reconfigured via software to provide a multitude of functions based on whatever aspect of the navigation or information system is needed.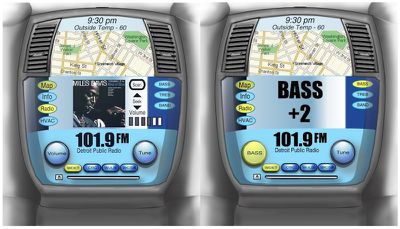 Pryor's concept for a reconfigurable "Digital Dash" with tactile input methods
The Reconfigurable Tactile Display (RTD) Control Interface offers a multifunctional display and control surface that answers the needs of stylists, product planners, engineers, and most importantly, consumers. Using the same display and control surface, the RTD dramatically changes its appearance and functionality with just a change of software. It features real knobs switches and sliders, which contribute to its intuitiveness and ease of use. [...]

Consumers can benefit from a personalized control layout and software graphics configuration. Graphics may cover the entirety of the RTD, and these can easily change colors and design. The RTD offers all the telematics and digital entertainment options of other multifunctional solutions while remaining intuitive and easy to use.

Pryor's concept for a reconfigurable "Digital Dash" with tactile input methods
In examining Pryor's previous patents, we discovered that Apple acquired the rights to a number of his patents and patent applications related to the technology, as well as future patents derived from those works, back in March 2010. A
copy of the assignment agreement
was filed with the patent office shortly after.
Other patents related to the "Digital Dash" initiative include methods for
sensing touch inputs
on displays such as vehicle navigation systems, as well as
additional details
on how in-vehicle displays can be dynamically reconfigured.

Apple's "iOS in the Car" vision for iOS 7
With the technology detailed in these Digital Dash patents dating back to before their 2010 acquisition by Apple, other options for vehicle integration have of course become possible, with Apple having focused on Siri as a means for interacting with navigation and other services while in the car. Apple rolled out an "Eyes Free" mode for Siri in iOS 6 last year, although carmakers are only just getting around to building support for the feature. Apple is becoming even more ambitious in iOS 7 with
"iOS in the Car"
, which would allow iOS devices to take over in-car displays
via AirPlay
to provide seamless integration.