Teardown of Apple's New AirPort Extreme Reveals Hard Drive Slot, but No Connectors
While iOS 7 and OS X Mavericks drew most of the attention at this week's Worldwide Developers Conference keynote, another one of Apple's introductions also generated a significant amount of discussion and controversy: redesigned AirPort Extreme and AirPort Time Capsule Wi-Fi base stations.
The new vertical designs take up considerably more volume than their predecessors, although footprints have been reduced to just 3.85 inches square. The new base stations include support for the latest 802.11ac Wi-Fi standard, and Apple has increased the number of antennas from three to six. The vertical design is intended to optimize range and signal strength by elevating the antennas, while also helping the base stations offer beamforming, which automatically finds 802.11ac devices and targets Wi-Fi signals toward those devices for optimum performance.
The teardown experts at iFixit have obtained one of the new AirPort Extreme units and have torn it apart to examine its internals. Given that the AirPort Extreme and AirPort Time Capsule have identical external designs, it should be no surprise that the AirPort Extreme contains space for a hard drive, although it appears that users will not be able to build their own Time Capsules by simply adding hard drives to their AirPort Extremes.
We free the top cover, only to find...3.5″ of empty space. While the AirPort Extreme doesn't come equipped with storage, we dug up a standard 3.5″ SATA hard drive, just to test it out. Perfecto!...Except we can't find any connectors where we'd plug in the hard drive, only empty spaces on the logic board—so chances of DIY AirPort Extreme to Time Capsule upgrades are slim.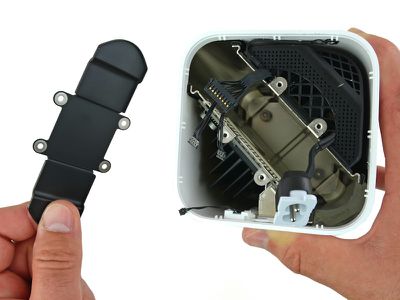 Looking further, iFixit found the usual array of chips on the logic board, and was also able to trace the antenna cable up through the center of the device to a large plate at the top which serves to distribute the Wi-Fi signals. And overall, iFixit gives the AirPort Extreme a repairability score of 8 out of 10, citing standard Torx screws, a relative lack of glue, and modular components as positives and slightly difficult prying to open, difficult fan access, and breakage-prone connectors as negatives.


Apple's new AirPort Extreme is priced at $199, while the AirPort Time Capsule base stations incorporating hard drives for wireless backup storage are priced at $299 for 2 TB and $399 for 3 TB.