Mac Pro Supplies Tightening as WWDC Approaches
Earlier this month, we reported that Apple resellers were seeing dwindling numbers of MacBook Airs, and it appears that many outlets are also experiencing low supplies of Apple's Mac Pro.
According to MacTrast, the entry level quad-core 3.2GHz Mac Pro is backordered or out of stock at a number of online stores, including MacMall, B&H Photo, CDW, PowerMax, Adorama, and J&R Electronics.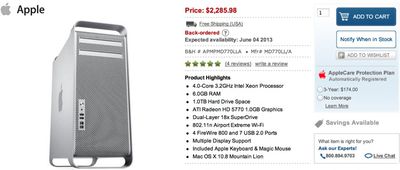 Popular Apple reseller Amazon.com has just nine of the low end Mac Pros in stock, and other retailers like MicroCenter, Frys, and Best Buy also have limited supplies.
Dwindling product supplies at third-party Apple retailers is often an indication that a refresh is imminent and the Mac Pro may be a prime candidate for an update announcement at WWDC in June, as it has been more than 1,000 days since the product last saw a significant release.
The Mac Pro received a slight update at WWDC last year, which included a small processor bump. Many Apple customers were dissatisfied with the update, but an Apple spokesman later confirmed that a new Mac Pro would be introduced in 2013.
One issue for Apple is likely to be processor availability, as the company has traditionally used high-end Xeon chips from Intel in the Mac Pro. The next-generation Xeon chips, Ivy Bridge-E, are not expected until around September of this year, a date far enough off that it would be difficult for Apple to announce a new Ivy Bridge-E Mac Pro at WWDC but close enough that Apple would have a difficult time justifying use of the current Sandy Bridge-E chips that have already been on the market for quite some time.